Episodes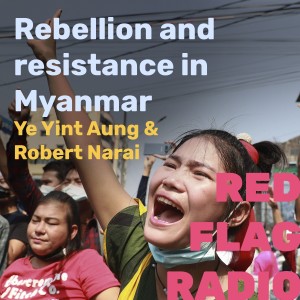 Tuesday Mar 16, 2021
Tuesday Mar 16, 2021
Rebellion and resistance continues in Myanmar after the Tatmadaw (Myanmar's military) arrested State Counsellor Aung San Suu Kyi and seized government on 1 February. Young workers and students have been at the centre of an uprising that has included mass strikes, street protests, and creative acts of civil disobedience. On this episode Burmese-Australian youth activist Ye Yint Aung and socialist Robert Narai share their perspectives and stories on the eruption of popular anger and the challenges ahead.
Further readings:
Myanmar coup: 'The people are more united, armed with past lessons' by Ye Yint Aung
https://amp.theage.com.au/national/myanmar-coup-the-people-are-more-united-armed-with-past-lessons-20210302-p57747.html
Myanmar's spring revolution by Robert Narai:
https://redflag.org.au/article/myanmars-spring-revolution
Myanmar Workers and Unions on the Front Lines in Fight Against Coup by Kevin Lin:
https://labornotes.org/2021/02/myanmar-workers-and-unions-front-lines-fight-against-coup
If the Military Leaders Win, There Will Be No Unions': Myanmar Garment Workers on the Strikes Against the Coup, interview with Ma Moe Sandar Myint, Ma Ei Ei Phyu, Ma Tin Tin Wai
https://labornotes.org/2021/03/if-military-leaders-win-there-will-be-no-unions-myanmar-garment-workers-strikes-against-coup
Join us for a special panel at Marxism 2021
https://marxismconference.org/program/monday/myanmar-thailand-hong-kong-mass-movements-for-democracy-across-asia
Follow Victorian Myanmar Youth on Facebook and Instagram for events and updates: facebook.com/vicmmyouth
Support Red Flag Radio on Patreon: 
https://www.patreon.com/redflagradiopodcast  
Subscribe to Red Flag newspaper: 
https://subscribe.redflag.org.au/  
Hosted by Roz Ward. Produced by Liam Ward. 
Music by Dan Kenny. 
Comments
(1)
To leave or reply to comments, please download free Podbean or